Where to View Websites of Black Metal Bands that no Longer Exist
---
In this article I will reveal to you a method by which you can view websites that no longer exist. Not only that, but you will also be able to view websites which are still in existence as they once were a long time ago before they became scarred with hideous share and like buttons. This article is by no means restricted the past websites of Black Metal bands. It will be useful to anyone wishing to view any website as it once was. So please keep reading even if you do not know or care what Black Metal is.

Some of the best bands in Black Metal arose during the second wave of Black Metal in the nineties. After the rise of the internet many of these bands owned their own websites from the late 1990s and particularly in the early 2000s. However as time went on over the next decade approaching 2010 The presence of Black Metal as it once was had started to fade. Many bands have fallen in to oblivion and disappeared along with their websites. Some bands have remained but their once official websites had been shut down and their official web presence has been reduced to nothing more than a Facebook or Myspace page. In many cases their former domains have fallen in to filthy hands and now lead to dodgy websites. Some bands such as Dimmu Borgir or Immortal have remained and so have their websites. Their presence is strong but Black Metal purists criticise them for selling out. The Music of some of these bands is absolutely superb. however I am sorry to say that many of those remaining websites resemble billboards displaying countless social networking share and Like buttons as well as pages containing many endorsement logos. This of course is not a look that is True or Black Metal. The number of pages that have survived untainted and unspoiled, free of like and share buttons, free of endorsements or adverts are very scarce. One example of such a site is that of Burzum and Varg Vikernes. Whether you like Varg and he's music or not one cannot deny that Burzum.org is a rare relic which has survived the transition in to the modern age unscathed.
Looking at archived Websites using the Wayback machine
The Internet Archive Wayback Machine is a Digital archive of the World Wide Web. It is a non profit organisation aiming to build a complete library of the World Wide Web, Video, Texts, Audio and Software. The Internet Archive Wayback Machine attempts to create a complete and permanent digital library which is of great value to researchers, historians and scholars. The Archive is also available to members of the Public and internet access is al you need in order to explore the archived library.

Many old Black Metal band websites have disappeared from the web, but thanks to the Wayback Machine you are able to look at archived historical versions of these websites.
www.gorgoroth.org was once the URL of True Norwegian Black Metal band Gorgoroth. Visiting this address on November 2014 reveals that the website has disappeared, and that the domain might be for sale. One can only guess who's hands this domain might fall in to in the future.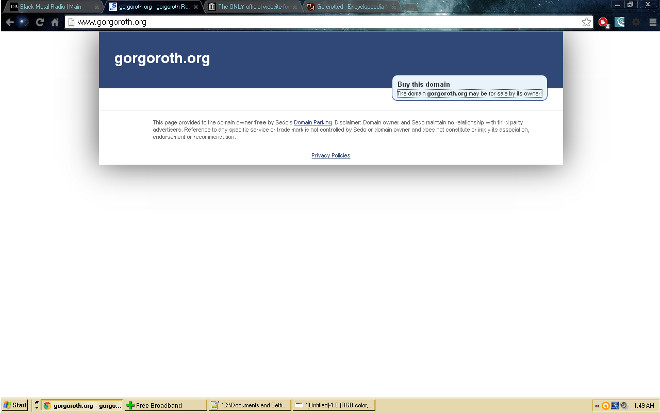 Now we will go to the Internet Archive Wayback Machine at www.archive.org/web and type Gorgoroths URL in to the search bar either with or without http:// at the beginning. Eg http://www.gorgoroth.org or www.gorgoroth.org then click Browse History or press enter on your keyboard.


The Wayback Machine will return a historical calender containing al the dates on which www.gorgoroth.org has been archived. You can select the year above, and the calender munths of the selected year shall be displayed. For instance the website has been archived on the 28th of March 2014. Clicking on this date will reveal a archived version of this website as it was on that date.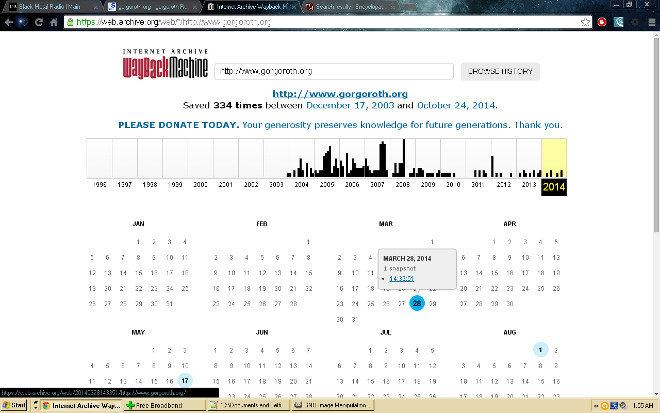 This snapshot reveals that on the 28th of March 2014 The official Gorgoroth website has already been taken down. You can see that the bar at the top of the page reveals the year and date this page was archived. The current page is also highlighted in red in the time line.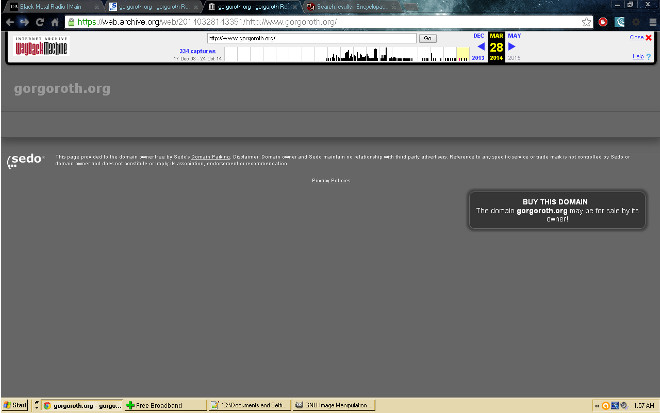 By clicking on the vertical black bars in the time line you can jump to another point in time at which this website was captured. I have clicked on the long bar in 2008 which revealed gorgoroths website on the 14th July 2008. As it turns out Gorgoroths website was still active at this point in time, however clicking on Enter Website reveals that the site had not been successfully archived beyond the landing page. Don't give up just yet, there are plenty more captures for us to explore and we are bound to find a more complete one.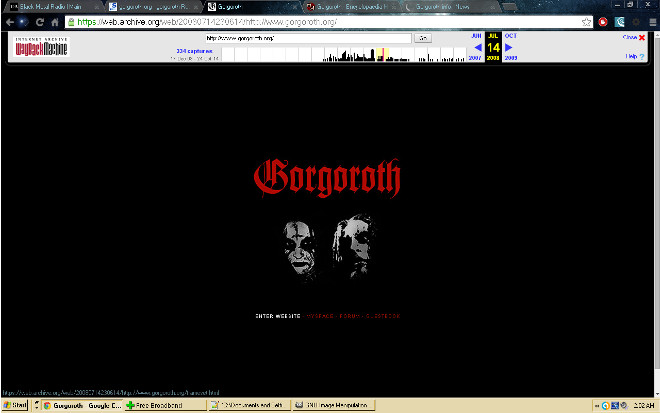 Jumping back further in to history reveals the landing page of Gorgoroths Web page as it was on August 2007 with Gaahl and his cronies on the cover. We will now have another attempt at clicking and entering the website.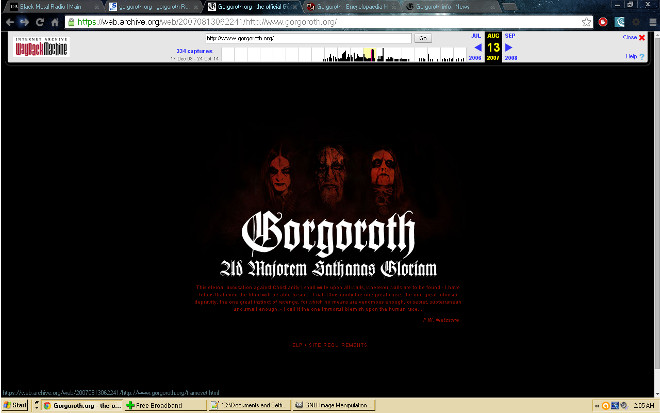 And finally, True Norwegian Black Metal. The official website of Gorgoroth as it was in the year 2007.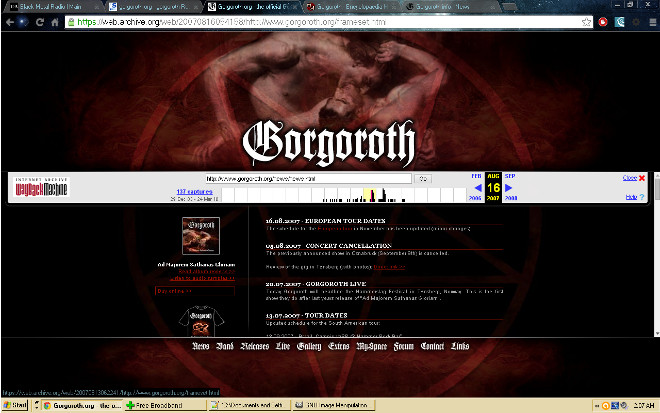 you have the option to click the red X in the time line where it says close. This will close the Wayback Machines time line so you can view the archived website in its full uninterrupted splendour.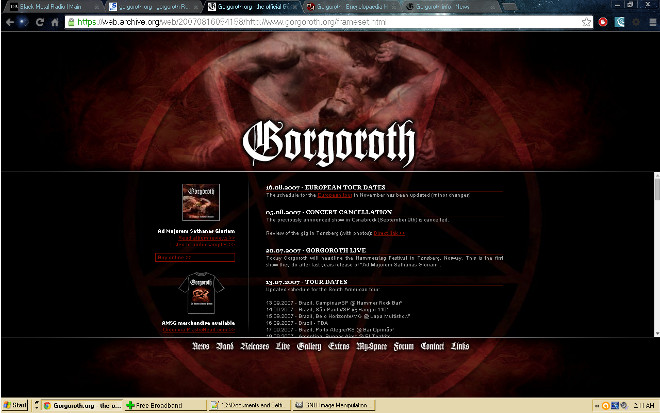 Domain names of Black Metal Band Websites that no longer exist
The Wayback Machine can be used to view existing as well as no longer existing websites as they once were. The only thing you need is the web address of the site you wish to see. Finding out the web address of Black Metal bands or any website that no longer exists can be difficult unless you already know the address. Of course you could try to guess the address by typing in www.some-band-name.com .net .org etc. but this is time consuming and often will lead you nowhere.
For this reason the list below contains many Web addresses mostly of Black Metal Band as well as some Death Metal Band websites. These websites eider do not exist any more or have been reduced to nothing more than a landing page containing a Facebook link which renders them as good as dead. In some cases the band still has a website but under a different name. In which case you need the old address in order to explore the bands past website.

The List of bands is in alphabetical order. Clicking on a band name will reveal additional information including a Direct link to the Wayback Machine where the Bands original website was archived. There is also a Link to the Bands Encyclopaedia Metallum entry where more about the band can be learned along with further links. If the band has a new official website under a different domain it will have a link there under New website. The Old Website Name contains only the URL But they are not linked as they are no longer associated with their original owners and would only lead to irrelevant and sometimes even dodgy sites.


A Gruesome Find

Country of Origin

America

Genre

Black Metal / Death Metal

Old Website

www.agruesomefind.com

New Website

None

Wayback Machine

Encyclopaedia Metallum
Abigor

Country of Origin

Austria

Genre

Black Metal

Old Website

www.infernalhorde.com/abigor

New Website

Wayback Machine

Encyclopaedia Metallum
Abused Majesty

Country of Origin

Poland

Genre

Symphonic Black Metal

Old Website

abusedmajesty.rockmetal.art.pl

New Website

None

Wayback Machine

Encyclopaedia Metallum
Acheron

Country of Origin

America

Genre

Death Metal / Black Metal

Old Website

www.acheron666.com

New Website

None

Wayback Machine

Encyclopaedia Metallum
Anaal Nathrakh

Country of Origin

England

Genre

Industrial Black Metal / Grindcore

Old Website

http://www.anaal-nathrakh.tk

New Website

None

Wayback Machine

Encyclopaedia Metallum
Ancient Ceremony

Country of Origin

Germany

Genre

Melodic Black Metal

Old Website

www.ancient-ceremony.de

New Website

None

Wayback Machine

Encyclopaedia Metallum
Angelcorpse

Country of Origin

America

Genre

Blackened Death Metal

Old Website

come.to/angelcorpse

New Website

None

Wayback Machine

Encyclopaedia Metallum
Antagony

Country of Origin

America

Genre

Deathcore

Old Website

www.antagony.com

New Website

None

Wayback Machine

Encyclopaedia Metallum
Arcturus

Country of Origin

Norway

Genre

Atmospheric Black Metal / Avant-Garde Black Metal

Old Website

www.arcturus.no

New Website

None

Wayback Machine

Encyclopaedia Metallum
Arkhon Infaustus

Country of Origin

France

Genre

Black Metal / Death Metal

Old Website

www.evilness.com/arkhon666

New Website

None

Wayback Machine

Encyclopaedia Metallum
Athanor

Country of Origin

Italy

Genre

Black Metal / Death Metal

Old Website

www.athanor.tk

New Website

Wayback Machine

Encyclopaedia Metallum
Benighted

Country of Origin

France

Genre

Black Metal / Death Metal / Grindcore

Old Website

www.staybrutal.com

New Website

Wayback Machine

Encyclopaedia Metallum
Bethlehem

Country of Origin

Germany

Genre

Black Metal / Dark Metal / Experimental Metal

Old Website

www.alexanderwelt.org

New Website

None

Wayback Machine

Encyclopaedia Metallum
Beytah

Country of Origin

America

Genre

?

Old Website

www.vipcorp.com/beytah.html

New Website

None

Wayback Machine

Encyclopaedia Metallum

None
Bishop of Hexen

Country of Origin

Israel

Genre

Symphonic Black Metal

Old Website

www.bishopofhexen.com

New Website

None

Wayback Machine

Encyclopaedia Metallum
Blodsrit

Country of Origin

Sweden

Genre

Black Metal

Old Website

www.blodsrit.se

New Website

Wayback Machine

Encyclopaedia Metallum
Bloodthorn

Country of Origin

Norway

Genre

Black Metal / Death Metal

Old Website

www.bloodthorn.net

New Website

None

Wayback Machine

Encyclopaedia Metallum
Cephalic Carnage

Country of Origin

America

Genre

Technical Grindcore / Death Metal

Old Website

www.cephaliccarnage.net

New Website

None

Wayback Machine

Encyclopaedia Metallum
Crematorium

Country of Origin

America

Genre

Deathcore

Old Website

www.crematoriummusic.com

New Website

None

Wayback Machine

Encyclopaedia Metallum
Cryptopsy

Country of Origin

Canada

Genre

Brutal Technical Death Metal / Deathcore

Old Website

www.cryptopsy.net

New Website

Wayback Machine

Encyclopaedia Metallum
Dawn

Country of Origin

Sweden

Genre

Melodic Black Metal / Death Metal

Old Website

www.dawnband.com

New Website

None

Wayback Machine

Encyclopaedia Metallum
Deeds of Flesh

Country of Origin

America

Genre

Technical Brutal Death Metal

Old Website

www.deedsofflesh.net

New Website

Wayback Machine

Encyclopaedia Metallum
Dissection

Country of Origin

Sweden

Genre

Melodic Black Metal / Melodic Death Metal

Old Website

www.dissection.nu

New Website

Wayback Machine

Encyclopaedia Metallum
Dødheimsgard

Country of Origin

Norway

Genre

Black Metal / Avant-garde Black Industrial Metal

Old Website

www.dhgasylum.com

New Website

None

Wayback Machine

Encyclopaedia Metallum
Dying Fetus

Country of Origin

America

Genre

Technical Death Metal

Old Website

www.dyingfetus.com

New Website

None

Wayback Machine

Encyclopaedia Metallum
Emperor

Country of Origin

Norway

Genre

Symphonic Black Metal

Old Website

www.emperorhorde.com

New Website

None

Wayback Machine

Encyclopaedia Metallum
Evilwar

Country of Origin

Brazil

Genre

Black Metal

Old Website

www.evilwar.com.br

New Website

None

Wayback Machine

Encyclopaedia Metallum
Exhumed

Country of Origin

America

Genre

Death Metal / Grindcore

Old Website

www.exhumed.us

New Website

None

Wayback Machine

Encyclopaedia Metallum
Finntroll

Country of Origin

Finland

Genre

Folk Metal

Old Website

www.finntroll.net

New Website

Wayback Machine

Encyclopaedia Metallum
Forgotten Chaos

Country of Origin

Switzerland

Genre

Black Metal / Thrash Metal

Old Website

www.forgottenchaos.net

New Website

None

Wayback Machine

Encyclopaedia Metallum
Forgotten Tomb

Country of Origin

Italy

Genre

Black Metal / Gothic Metal / Doom Metal

Old Website

www.forgottentomb.com

New Website

None

Wayback Machine

Encyclopaedia Metallum
Gates of Enoch

Country of Origin

America

Genre

Black Metal

Old Website

www.chaoticgoat.com/goe

New Website

None

Wayback Machine

Encyclopaedia Metallum
Gehenna

Country of Origin

Norway

Genre

Black Metal / Death Metal

Old Website

www.gehenna666.cjb.net

New Website

Wayback Machine

Encyclopaedia Metallum
Gloomy Grim

Country of Origin

Finland

Genre

Symphonic Black Metal

Old Website

www.gloomy-grim.info

New Website

None

Wayback Machine

Encyclopaedia Metallum
God Dethroned

Country of Origin

Netherlands

Genre

Blackened Death Metal

Old Website

www.goddethroned.com

New Website

None

Wayback Machine

Encyclopaedia Metallum
Gorelord

Country of Origin

Norway

Genre

Death Metal

Old Website

www.home.no/gorelord

New Website

None

Wayback Machine

Encyclopaedia Metallum
Gorerotted

Country of Origin

England

Genre

Grindcore / Death Metal

Old Website

www.gorerotted.com

New Website

None

Wayback Machine

Encyclopaedia Metallum
Gorgoroth

Country of Origin

Norway

Genre

Black Metal

Old Website

www.gorgoroth.org

New Website

Wayback Machine

Encyclopaedia Metallum
Grimfist

Country of Origin

Norway

Genre

Thrash Metal / Groove Metal

Old Website

www.grimfist.com

New Website

None

Wayback Machine

Encyclopaedia Metallum
Hecate Enthroned

Country of Origin

England

Genre

Melodic Black Death Metal

Old Website

www.hecate-enthroned.co.uk

New Website

Wayback Machine

Encyclopaedia Metallum
Hell

Country of Origin

Spain

Genre

Death Metal

Old Website

hell.wingsofdeath.nu

New Website

None

Wayback Machine

Encyclopaedia Metallum
Heretical

Country of Origin

Italy

Genre

Symphonic Black Metal

Old Website

www.thyanthemfades.com/heretical

New Website

None

Wayback Machine

Encyclopaedia Metallum
Hills of Sefiroth

Country of Origin

America

Genre

Black Metal

Old Website

home.mchsi.com/~hillsofsefiroth/main.html

New Website

None

Wayback Machine

Encyclopaedia Metallum
Hypocrisy

Country of Origin

Sweden

Genre

Death Metal / Melodic Death Metal

Old Website

www.hypocrisy.tv

New Website

Wayback Machine

Encyclopaedia Metallum
Impaled Nazarene

Country of Origin

Finnland

Genre

Black Metal

Old Website

www.impnaz.com

New Website

None

Wayback Machine

Encyclopaedia Metallum
Kaamos

Country of Origin

Sweden

Genre

Death Metal

Old Website

www.kaamos.nu

New Website

None

Wayback Machine

Encyclopaedia Metallum
Keep of Kalessin

Country of Origin

Norway

Genre

Black Metal / Melodic Black Death Metal

Old Website

www.keepofkalessin.no

New Website

None

Wayback Machine

Encyclopaedia Metallum
Lord Belial

Country of Origin

Sweden

Genre

Black Metal

Old Website

www.lordbelial.com

New Website

Wayback Machine

Encyclopaedia Metallum
Månegarm

Country of Origin

Sweden

Genre

Viking Metal / Black Metal / Folk Metal

Old Website

www.manegarm.com

New Website

None

Wayback Machine

Encyclopaedia Metallum
Maze of Torment

Country of Origin

Sweden

Genre

Death Metal / Thrash Metal

Old Website

www.mazeoftorment.com

New Website

None

Wayback Machine

Encyclopaedia Metallum
Mor Dagor

Country of Origin

Germany

Genre

Black Metal

Old Website

www.mor-dagor.de

New Website

Wayback Machine

Encyclopaedia Metallum
Myrkskog

Country of Origin

Norway

Genre

Black Metal / Brutal Death Metal

Old Website

www.myrkskog.org

New Website

None

Wayback Machine

Encyclopaedia Metallum
Necrophobic

Country of Origin

Sweden

Genre

Black Metal / Death Metal

Old Website

www.necrophobic.net

New Website

None

Wayback Machine

Encyclopaedia Metallum
Nokturnal Mortum

Country of Origin

Ukraine

Genre

Symphonic Folk Black Metal

Old Website

www.thepaganfront.com/oriana/nm

New Website

Wayback Machine

Encyclopaedia Metallum
Obtained Enslavement

Country of Origin

Norway

Genre

Symphonic Black Metal / Death Metal

Old Website

members.tripod.com/Obtained_Enslavement/oe.html

New Website

None

Wayback Machine

Encyclopaedia Metallum
Old Man's Child

Country of Origin

Norway

Genre

Melodic Black Metal

Old Website

www.oldmanschild.net

New Website

None

Wayback Machine

Encyclopaedia Metallum
Setherial

Country of Origin

Sweden

Genre

Black Metal

Old Website

www.Setherial.com

New Website

None

Wayback Machine

Encyclopaedia Metallum
Sonic Death Rabbit

Country of Origin

America

Genre

?

Old Website

www.sdr.baseck.com

New Website

None

Wayback Machine

Encyclopaedia Metallum

None
The Bezerker

Country of Origin

Australia

Genre

Progressive Thrash Metal

Old Website

www.theberzerker.com

New Website

None

Wayback Machine

Encyclopaedia Metallum
Thy Serpent

Country of Origin

Finland

Genre

Melodic Black Metal

Old Website

www.thyserpent.net

New Website

None

Wayback Machine

Encyclopaedia Metallum
Thyrane

Country of Origin

Finland

Genre

Symphonic Black Metal / Blackened Industrial Metal

Old Website

koti.mbnet.fi/thyrane

New Website

None

Wayback Machine

Encyclopaedia Metallum
Tidfall

Country of Origin

Norway

Genre

Industrial Black Metal

Old Website

www.tidfall.net

New Website

None

Wayback Machine

Encyclopaedia Metallum
Tsjuder

Country of Origin

Norway

Genre

Black Metal

Old Website

www.tsjuder.com

New Website

None

Wayback Machine

Encyclopaedia Metallum
V:28

Country of Origin

Norway

Genre

Atmospheric Futuristic Black Metal / Death Metal with Electronic Influences

Old Website

www.v28.com

New Website

None

Wayback Machine

Encyclopaedia Metallum
Vintersorg

Country of Origin

Sweden

Genre

Viking Folk Metal / Progressive Metal

Old Website

www.vintersorganic.com

New Website

None

Wayback Machine

Encyclopaedia Metallum
Yyrkoon

Country of Origin

France

Genre

Death Metal / Thrash Metal

Old Website

www.yyrkoon.net

New Website

None

Wayback Machine

Encyclopaedia Metallum